Rulmeca Corporation will host comprehensive Motorized Pulley sales training for distributors and sales reps on August 24-25, 2017 in Wilmington, NC. We will meet 8:00am – 5:00pm on day one and 8:00am – Noon on day two. See registration details below.
Course Objective:
Through lectures, class exercises, and hands-on assembly experience, our school enables participants to understand Motorized Pulley technology, explain the benefits, solve common conveyor drive problems, and overcome common objections.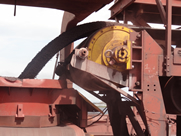 Actual Applications Review:
We review many successful Motorized Pulley applications illustrating how the technology solves problems with harsh environments, restricted space, special safety concerns, and other challenging technical obstacles. A special segment on hopper feeder drives and dual drive technology is included.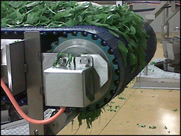 New Unit Handling/Food Processing Module:
Since the Rulmeca Group is now serving unit handling and food processing customers internationally, our sales course now includes topics such as: small Motorized Pulleys (including 3.15″ and 4.5″ diameters), driving modular belt with sprocketed and profiled Motorized Pulleys, and computing required HP for unitized loads.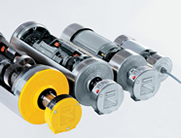 World's Broadest Motorized Pulley Portfolio:
Rulmeca now offers the world's largest Motorized Pulley range. Our sales course describes key features and benefits of all models from the tiny 0.08 HP 3.15″ model 80LS to the huge 330 HP 40″ diameter model 1000HD.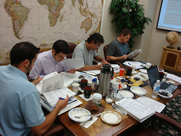 Group Workshops:
Group projects simulating real-life conveyor applications enable participants to use Rulmeca conveyor design software to calculate required power and plot material trajectories & belt cross sections. This expanded course includes "multiple opening" hopper feeder drive calculations as well as "multiple drive" tension reductions.
Course Registration: This course is offered to any authorized Rulmeca Corporation Motorized Pulley distributor or sales representative. There is no limit to the number of participants each company may send.
There is no charge for the school (Rulmeca will provide meals and software.)
To register call Brian Vrablic at 910-794-9294 or write bvrablic@rulmeca.com.
Local Accomodations: Rulmeca will present the conference at Rulmeca Corporation, 6508-B Windmill Way, Wilmington, NC 28405. We suggest that participants stay at the Fairfield Inn on Eastwood Road because we have arranged for a special rate. For room reservations, call 910-791-8082, ask for the sales department, and request the "Rulmeca Corporation Rate." Participants are responsible to pay for their rooms.