After more than one year of project planning and major equipment procurement/commissioning, the Horizon Expansion Project has enabled Rulmeca Corporation to offer more Motorized Pulley options from the company's Wilmington, NC local assembly facility.  With additional capabilities planned for the near future, the equipment now in place has enabled Rulmeca Corporation to offer hot vulcanized white nitrile rubber on unit handling Motorized Pulleys.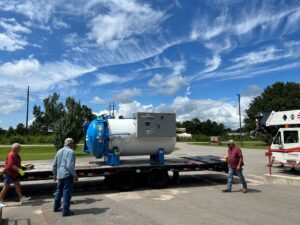 August 2022 was an exciting month as we received our new Bondtech electric autoclave and watched its precise placement by our contractor, Southern Industrial Constructors.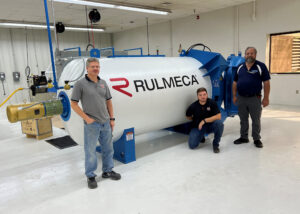 In September, Bondtech, our autoclave manufacturer, commissioned the machine and trained our production staff in how to set temperature, pressure, and time variables to effectively hot vulcanize white nitrile rubber onto our steel Motorized Pulley shells.  Shown here (left to right) are Jay Graham, Patrick Hassett, and Rick Long.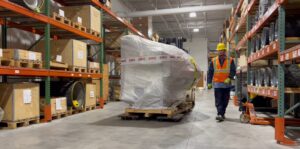 In December we received our new Fryer CNC Machine. This photo shows the machine being handled by our friends with Southern Industrial Constructors.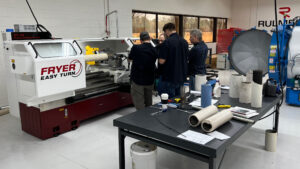 In December the Fryer Machine commissioning engineer set all dimensional and feed rate parameters for us to offer smooth or profiled white nitrile lagged Motorized Pulleys to our customers. Outfitted with a Prosco Grinder and Hot Knife, this machine will enable us to finish the nitrile we hot vulcanize onto our shells.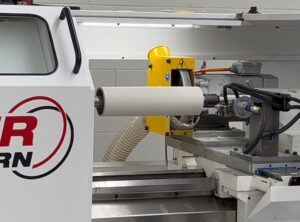 First "Grind"!  Shown here, the company's new CNC rubber grinding and grooving machine finishes the first production run of "white nitrile rubber with smooth trapezoidal crown" for a model 113LS Motorized Pulley.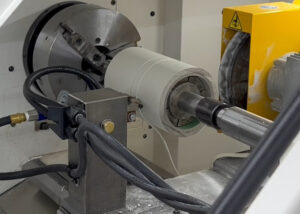 First "Groove"!  This photo shows the final test of the company's new "hot knife" while making a "K-section V-groove" in preparation for the first production groove in a model 80LS Motorized Pulley, scheduled for January 12.