October 1, 2019 marks the beginning of our seventeenth year of operation as Rulmeca Corporation, headquartered in Wilmington, North Carolina.  Growing from a staff of two engineers in 700 sq ft of rented office space and a used shipping container to a staff of eleven in a modern 20,000 sq ft facility, the company supplies a wide variety of Motorized Pulleys to serve customers in mining, construction, food processing, and package handling markets.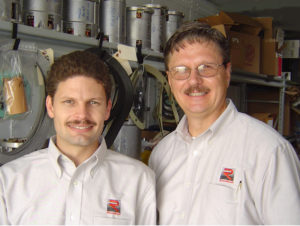 It seems like only yesterday that Jay Graham and Mike Gawinski rented a small office, bought a used shipping container and began supplying Rulmeca Motorized Pulleys to the US market.  Photo shows the two men on October 1, 2003 in the "shop."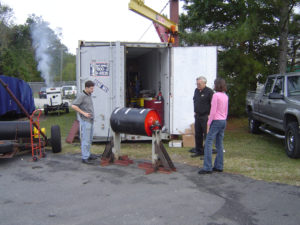 The growing staff inspects a repaired 20-year-old "JOKI" Motorized Pulley running in 2004.  How was the 460v/3ph/60Hz run test made?  By using a used diesel generator in the parking lot behind the office.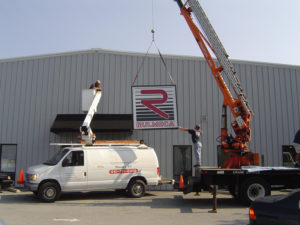 The company moved to a 5,400 sq ft facility in July 2005 in order to handle the increasing demand for locally-assembled Rulmeca Motorized Pulleys.  At this time, the models assembled in Wilmington were limited to 220, 320, and 400.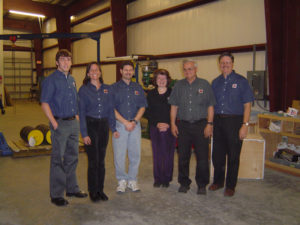 The growing staff poses for a picture in the larger climate-controlled shop in 2005 prior to the installation of the jib crane, hydraulic presses, and storage rack.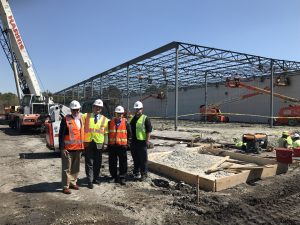 By 2017 it was clear that more space was needed for the larger staff and expanded Motorized Pulley assembly facility.  By this time the conveyor drives assembled at the facility included models 113, 138, 165, 220, 320, 400, 500, and 630.  Photo shows Rulmeca people during construction of the new 20,000 sq ft facility.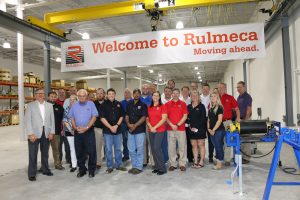 Rulmeca Corporation's staff of eleven welcomed key customers to an open house in August 2018.  Photo shows the new building before the installation of overhead cranes, new assembly & test fixtures, storage rack, and CNC machine.
Photo shows Rulmeca Corporation staff, Rulmeca Group managing directors and colleagues, and honored guests at the grand opening only one year ago.  Having survived two hurricanes so far, the company is grateful to have a new building from which to serve customers.  Models assembled and repaired at the facility now include 80, 113, 138, 165, 220, 320, 400, 500, 630, and 800, which is nearly the entire product portfolio.