As one of 17 affiliates in the Rulmeca group around the world, Rulmeca Corporation celebrated the company's first 60 years with families, partners, and collaborators at the company's Wilmington, NC facility.
The first in a series of videos showing the event, this video captures the spirit of the occasion.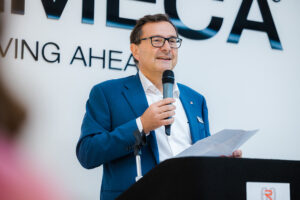 Fabio Ghisalberti addressed the group, "It is with pride, gratitude, and joy I am here today with you to celebrate our Rulmeca 60th anniversary.  This celebration is for all managers, staff, employees, and friends in Rulmeca, particularly today for our colleagues and families in Rulmeca Corporation."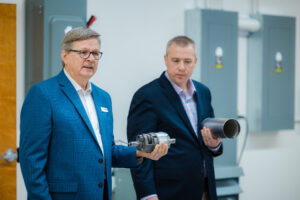 Mike Gawinski and Brian Vrablic explained what a Motorized Pulley is, describing how our local assembly facility cooperates with our center of excellence in Germany.  Mike also said, "As you will see on today's tour, Rulmeca Corporation started exactly 19 years ago today in a 750 square foot rented office and a used shipping container to serve as a shop.  Today, we are celebrating not only 60 years of Rulmeca Group growth, but also the expansion of our local company to 30,000 square feet of space to accommodate more equipment and our growing staff."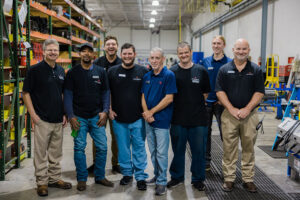 Our production staff presented how we quickly offer our customers Motorized Pulley machining, welding, assembly, inspection, repair, and (soon) rubber lagging in a variety of models from as small as 3 inches in diameter (weighing 12 lbs) to more than 30 inches in diameter (weighing more than 2 tons).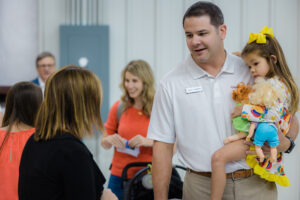 We were delighted the festivities were attended not only by employees, retirees, and local collaborators, but also their children and grandchildren.  Here Zach Laymon speaks with Val Vrablic while he holds his daughter prior to the catered meal.