Construction of Rulmeca Corporation's new corporate headquarters is now scheduled for an August move-in date.  Steel structure is finished, interior walls are finished, and exterior brick work is progressing well.  To view flyover, click here.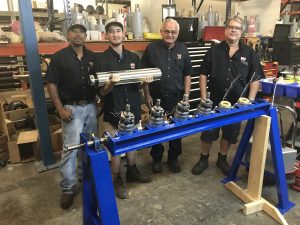 Our busy shop staff stopped for a picture with our new assembly fixture, one of ten which have been ordered for the new larger facility.  Left to Right are Casie Moore, Christian Horrell, Merle Graham, and Pete Svizeny.)
It's hard to imagine that, within a few weeks, this empty facility will be filled with assembly and test stands, Storage racks filled with Motorized Pulley parts inventory, CNC machines,  cranes, and administrative offices.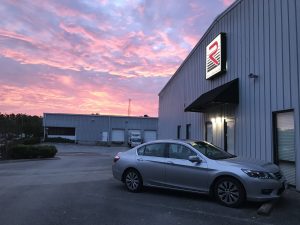 Soon the sun will set on 6508 Windmill Way.  That property has served us well for thirteen years.