Rulmeca Corporation performs thermography to analyze external heat distribution on Motorized Pulleys.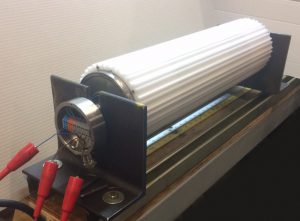 Rulmeca offers drum motors with a variety of shell materials, shell coverings, and shell profiles.  It is essential to verify that normal motor heat can be dissipated through the pulley shell.  Periodic spot checking with infrared thermometers is adequate in most cases.  However, thermography yields a more comprehensive picture of external heat gradient.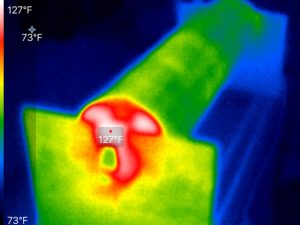 A thermogram clearly shows surface temperature.  Thermography is useful for product development and bench-testing.  Rulmeca Motorized Pulley users also use thermography for predictive maintenance in addition to current monitoring, vibration analysis, and tribology.  Contact Rulmeca for more information on these PM techniques.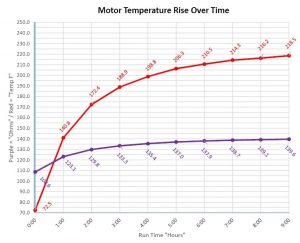 All external temperature measurements, whether taken to quantify a trend or taken for a spot reading, are intended to infer internal temperature conditions.  When it is essential to monitor internal motor temperature during drum motor testing or operation, an RTD (resistance temperature detector) is used.