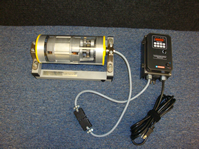 Functions on Standard Power:
Powered by any single phase wall outlet (e.g. 110v/1ph/60Hz in US; 220v/1ph/60Hz in South America; 220v/1ph/50Hz, in Australia; etc) the complimentary VFD enables demonstration to include speed change, ramp up, ramp down, reversing, etc.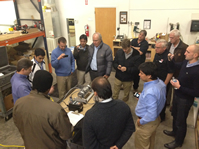 Dramatic Impact:
The interactive demonstration is useful one-on-one or in large groups and allows particpants to actually see internal moving parts. In addition to the pulley's compact size and light weight, the "dead" (non-rotating) shaft is always a dramatic component of the demonstration because that feature is usually difficult to comprehend.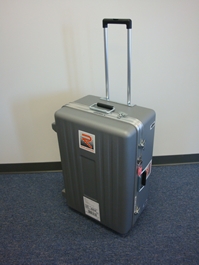 Specifications and Price (US voltage):
Motorized Pulley Demo, PN: 6.4BG.FMP.9A9-11.81M, EDP:2.037.020.NXX-300, Model 138E, 5.45in (138mm) OD, 60hz,3ph, 0.50hp (0.37kw), 38fpm (0.20mps), 230v (220-240v), 4ft(1.15m), Powercord with S/S Straight Connector, S/S Shafts, Painted Al End Housings, Special Greased and Sealed Bearings, No Oil, Special Clear Acrylic Shell, No Lagging, Class H Motor Insulation, 11.81in (300mm) RL, Mounted on Al Frame, Operated by Included VFD which runs on standard local power supply input and 230v/3ph Output, Packed in Rolling Travel Case, Shipping Dimensions 29 x 20 x 14 in (737 x 508 x 356 mm), Shipping Weight 66 lb (30 kg). Price: $1,950.00 FOB Wilmington, NC