Rulmeca Corporation launched its latest Road Show Trailer in October.  Delivered to the US Midwest, it is now ready for presentations at mines, mills, food processing plants, engineering companies, and equipment manufacturers throughout the US.  Sales & Marketing Director, Brian Vrablic, said "The new road show is essential to our marketing efforts…we basically wore out our first trailer by travelling nearly 200,000 miles since 2008."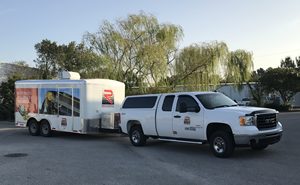 The new Road Show Trailer is equipped with actual working Motorized Pulleys in load-sharing dual drive configuration.  It also incorporates big screen monitors as well as a variety of Rulmeca drum motor components.  It is an ideal tool for explaining drum motor technology to engineers and end users.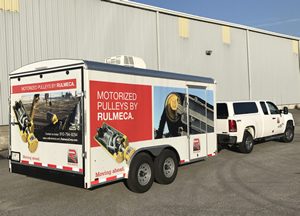 Outfitted with a built-in generator, the new road show can be deployed to remote locations…wherever conveyor users and designers are.  And its HVAC unit makes it user-friendly in any weather conditions.