When Rulmeca Corporation celebrated the company's first 60 years with families, partners, and collaborators at the company's Wilmington, NC facility on October 1, 2022 we incorporated several department tours, hosted by our staff (from left to right: Jay Graham, Casie Moore, Patrick Hassett, Tony McNeil, Chris Vann, Michael Thorpe, Devlin Foley, and Keith Blake).
The second in a series of videos showing the event, this video captures the spirit of the occasion.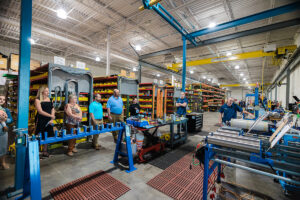 Chris Vann explains how we assemble Motorized Pulleys, using picking carts, assembly stands, test stands, overhead cranes, hydraulic presses, and various types of electronic test equipment.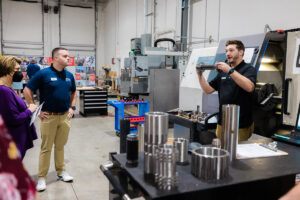 Patrick Hassett explains how we use our homemade collets and mandrels to make drum motor shells in our CNC engine lathe and elaborates on the variety of profiles, usually in stainless steel, we offer to our customers.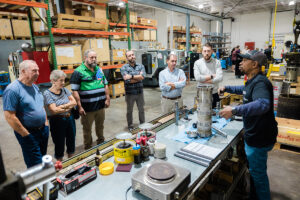 Casie Moore describes how we disassemble, inspect, service and/or repair Rulmeca Motorized Pulleys.  He mentioned how we received a large model 630H for "refurbishment".  The only services he needed to perform were: change oil & seals, bearings, and lagging…and that was after thirteen years of continuous service at a US steel mill.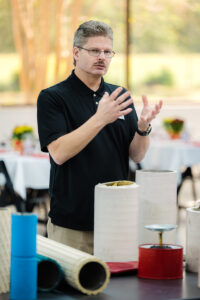 In the expanded part of our facility, Jay Graham explains how we are installing and commissioning equipment to enable us to apply and finish white nitrile lagging to our Motorized Pulleys…enabling us to offer short lead times on a variety of our most popular drum motors.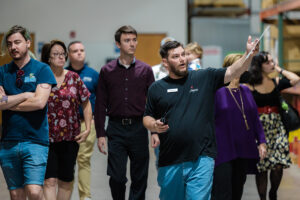 Tony McNeil displays our inventory of more than 2,500 different part SKUs, supplied by our German center of excellence, usually via weekly sea freight deliveries through the Port of Wilmington.