Rulmeca Corporation will join other Wilmington-area manufacturers at the "Manufacturing Day Expo", sponsored by Cape Fear Community College on November 16, 2022 at the CFCC Castle Hayne campus.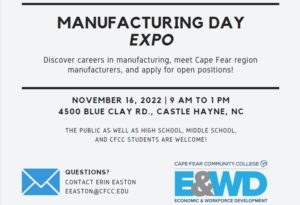 Rulmeca will help high school, middle school, CFCC students, and the general public discover careers in manufacturing.
As a member of the Cape Fear Manufacturing Partnership, Rulmeca is joining with businesses in our area to improve and grow the manufacturing base in Southeastern North Carolina to attract job seekers and help train, develop and align talent to the wide diversity of career paths in our industries. Part of that work includes working with Cape Fear Community College and Brunswick Community College.