Rulmeca Corporation presented "day two" of Motorized Pulley sales training to key sales people in the company's network of independent sales representatives on April 14, 2023.  This picture shows guest speaker Ryan Fallon of RMS Industrial Sales explaining how he has successfully applied Motorized Pulley technology to solve problems at five key food processors.
Zach Laymon, Rulmeca sales manager, explains keys features of the company's stainless steel Motorized Pulleys.  He elaborated on why certain features are essential on food processing applications.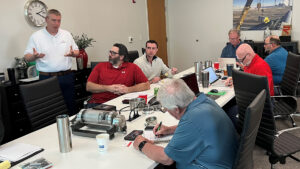 Brian Vrablic, Rulmeca Corporation president, coaches sales reps in useful techniques for discovering problems at end user facilities.  He elaborated on key problems for which Rulmeca Motorized Pulleys have provided successful solutions including: eliminating belt slip, adding additional conveyor drive power, and improving system reliability.