Rulmeca Corporation presented Motorized Pulley sales training to key sales people in the company's network of independent sales representatives in April 2023.  This picture shows guests from Midwest Conveying Solutions, RMS Industrial Sales, and Rulmeca Canada learning about Rulmeca's in-house aftermarket repair capabilities.  This group of salespeople is important because they cover 25% of the contiguous US states.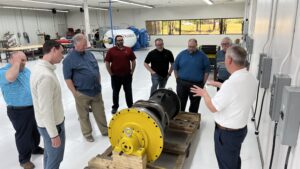 Brian Vrablic, Rulmeca president, explains how to understand drive problems often encountered by conveyor operators and how to develop and propose cost-effective solutions using Motorized Pulley technology, using the company's model 800HD demonstration unit.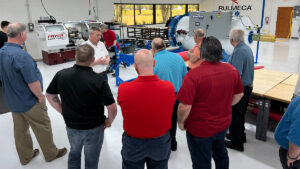 Vrablic explains how in-house lagging capabilities have greatly reduced the production time for Rulmeca Motorized Pulleys which require white, blue, and black nitrile with various grooving profiles.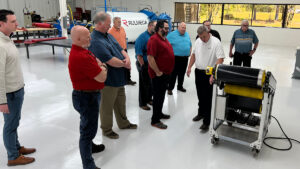 Vrablic shows how to use the company's dual drive conveyor demonstration unit to explain the benefits of increasing the conveyor drive wrap angle.  These include elimination of belt slippage/bounce, addition of power, and reduction of belt tension.