After its first year of cross-country travels, Rulmeca Corporation's Road Show Trailer has returned to Wilmington for detailing and electronic equipment upgrades.  Our 2019 plan includes heading southwest in January for a one year clockwise tour around the US.  If you would like us to visit your facility, click here for an appointment.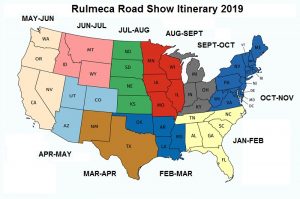 Beginning with calls in the Carolinas in January, we will work our way west to visit not only bulk handling facilities, but also meat, fruit, nut, and vegetable processing plants and engineering companies.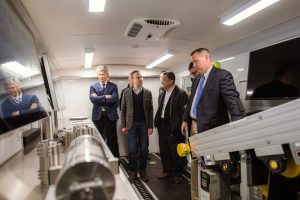 Inside the travelling Road Show Trailer are a variety of functioning Rulmeca Motorized Pulleys, as well as touch screen monitors.  These enable visitors to easily understand why hermetically-sealed and self-lubricating conveyor drives can solve a variety of problems.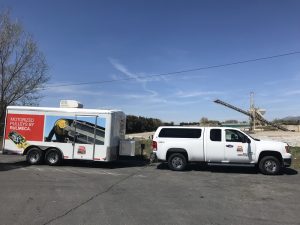 The climate-controlled trailer enables conveyor operators, engineers, and maintenance personnel to see, first-hand, how Rulmeca Motorized Pulleys can solve technical conveyor drive problems such as reliability, safety, and maintainability.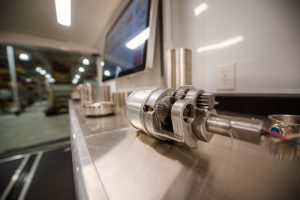 The display includes a "hands-on" experience with all components of our Motorized Pulleys, including a model 138LS drivetrain (pictured here) as well as pulley shells, end housings, shafts, mechanical backstops, and variable frequency drives.
Road Show trailer number two will go anywhere, anytime, to explain Rulmeca Motorized Pulley technology and help our staff find and solve conveyor drive problems.  We retired our first Road Show trailer after logging nearly 200,000 miles during nine years of cross country journeys.